Who I am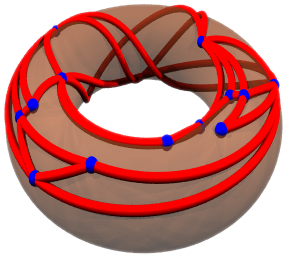 Since november 2008, I am associate professor at the Laboratoire d'Ingénierie des systèmes Automatisés (LISA). You can download my Ph.D. thesis titled "Algorithmes numériques pour l'analyse topologique. Calcul par intervalle et théorie des graphes" and the slides. My supervisors were Luc Jaulin and Bertrand Cottenceau.
My main subject of interest is the creation of numerical algorithms capable of computing the topological properties of sets. Therefore, my subjects of interest are : Interval analysis, computation, topology, path-connected set, path-planning, triangulation ...
My résumé

"The reading of all good books is like conversation with the finest men of past centuries." Descartes, 17th century. I am what I read (and what I watch).
Publications
Conference
Conference papers
Counting the Number of Connected Components of a Set and Its Application to Robotics.
N. Delanoue, L. Jaulin and B. Cottenceau. (2006)
In Applied Parallel Computing, J. Dongarra, K. Madsen, J. Wasniewski (Eds), Lecture Notes in Computer Science. Volume 3732 / 2006. pp. 93 ISBN: 3-540-29067-2.
download the pdf file (317 KB)


Guaranteed numerical injectivity test via interval analysis.
Sébastien Lagrange, Nicolas Delanoue, Luc Jaulin (2006)
Trends in Constraint Programming, publisher ISTE, London, UK, may 2007. Chap 12, pages 237-248. Isbn = 9781905209972
download the pdf file (397 KB)


Seminar
Demo and solvers
The "Thom solver" creates a graph which is topologically equivalent to the Apparent Contour of a given smooth map from R^2 to R^2.
Download Thom.zip.


This a very short introduction to wxWidgets. One can find how to combine wxwidgets with thread, opengl ... Go to the webpage (The web-page is in French) .
Flash-ActionScript demos that I have developed to introduce people to algebraic topology.
Go to the webpage .
The HIA solver creates an abstract simplicial complex which is homotopy equivalent to a given set defined by inequalities.
Size : 964 KB, Download HIA.exe.
Rope.exe is a light software used that how HIA algorithm can be useful. Size: 534 KB Download Rope.exe
The CIA solver can PROVE that a set defined by inequalities is connected. It can also used to count the number of connected components.
Size: 900 KB Download CIA.exe
Robot2D is a very light software used to show how topology can help to solve a robotic problem.
Size: 534 KB, Download Robot2D.exe
SIVIA is a tutorial software used to introduce interval analysis. This introduction is based on a Set Inversion.
Size: 696 KB Download SIVIA.exe
Upcoming and Recent Trips